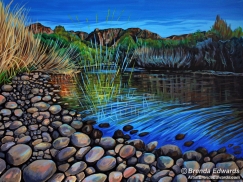 For years I put art under glass. I loved to draw, I painted with watercolors and I was a printmaker. Every artwork I did was never complete until it was under glass and framed, and as anyone who has ever walked into a frame shop knows, framing is a racket. For me – the glass always got in the way of my art. The work ended up with a reflective surface in front of it, and yes there is Plexiglas, but it is cost prohibitive.
So when I moved into the new studio and started making art again I decided nothing I did would go under glass. Although I had painted with acrylics before, I had previously been frustrated by them. This was probably because I hadn't experimented with them enough. I had used oils with good success but I did not want the noxious odor of oils in my home, which is the main reason I don't use them. So… I learned how to paint with acrylics and then to avoid framing altogether, my gallarist suggested I start using gallery wrap canvas.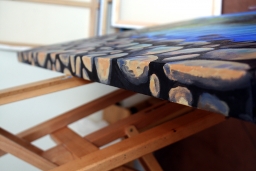 For readers who don't know what a gallery wrap canvas is – it's a canvas that is stretched on 1 and 1/2 inch deep stretchers, as opposed to the traditional half inch stretchers. These canvases are more expensive and the one and a half inches of wrap  presents its own set of issues. You can paint them a solid color but I don't do that. I paint my paintings an extra 1 and 1/2 inches all around  to the edge. It's the price I pay for not framing and it takes planning, added creativity and time. It presents a whole new dimension to a painting, giving it an almost 3D effect, and I really like that. As I paint I always try to be aware of the sides of the painting and bring my color around as I go. But no matter how hard I try to do that – the fact is the sides get mostly painted, the top gets painted less because it's not in a good position to be seen as I paint, and the bottom gets ignored until the very end of the painting process because the painting is sitting on it. So after painting the painting, I have to finish all of the sides. It's a process I don't really like, but it's a price I'm willing to pay and the end result can make the painting even better.
I know that no one will probably ever see the bottom of my paintings after they are hung – but I make sure that if anyone does see them, they look good. It's the value I give my client who isn't buying a frame with my painting. Framing is a specific aesthetic choice on its own and I think that sometimes a frame can put a buyer off of a piece. Gallery wraps can be framed if the client wants to do it, but I am not in the business of selling frames, and I try really hard to make a product that no one feels required to frame.
And in fact, when I told my recent buyer who has not seen the painting in person about this added aspect of his painting, he was elated. He said, "I just saved $250!".  And that's a low estimate. I hope he likes his edges.